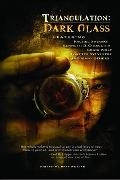 The anthology Triangulation: Dark Glass, which made its debut at Confluence last weekend, is now available for sale via lulu.com in both trade paper and digital formats. In it, along with a lot of other really good fiction, you'll find my short story "More Things in Heaven and Earth".
This is Pete Butler's third and last time in the big editor's chair for the anthology series.
Vincent Chong's cover art rocks, by the way.
ISBN: 978-0-578-03103-3
Publisher: PARSEC Ink